Sept 12, 2023
The Best Fall/Winter Hats for Keeping Your Head Warm and Stylish
Top must-have Fall/ Winter hat styles for women and men.
Winter's chill will be nipping at the air soon, and it's time to cozy up in style. Whether you're off on a snowy adventure, strolling the city streets, or exploring the wild landscapes, our collection of Fall/ Winter hats from House of Ord - Cape Town and 360FIVE Everyday promises both snugness and style. Don't underestimate the power of a Fall/Winter hat – it's not just a fashion statement, it's also warmth and comfort during the frosty months ahead. Let's dive into the world of winter hats, exploring their importance, benefits, and fashion potential. Join us as we unravel the perfect blend of fashion and function that our hats bring to the winter scene.
Introduction
More than Style
The 5 Popular Styles this Year
The Perks of Wearing Winter Hats
Materials Matter: Woolfelt to Microfiber
Conclusion
More than Style
Hats aren't just accessories - they're your armour against the cold. More than style, they're essential for shielding you from harsh elements. They act as a crucial form of insulation, protecting you from the cold's harsh effects. By covering your head, they play a significant role in minimizing heat loss, which is a major contributor to overall body temperature reduction. By preventing excessive heat loss through your head, these hats contribute significantly to your overall comfort and well-being during colder months.
"Whenever you wear your hat, your day will be special."
- Margo Nickel
Top 5 Popular Styles This Year
Wilde Fedora
Embrace your wild side with the Wilde Fedora. Crafted from 100% wool felt in rich earthy tones, it evokes the spirit of adventurous escapades. Touches of genuine leather radiate an inviting warmth, ensuring you're not just dressed, but embraced by its charm. With certified UPF50+ UV protection, it's more than a hat—it's a guardian against the sun. A unisex style hat for him and her. Adjustable with the internal drawstring. Whether you're exploring city streets or woodland trails, let the Wilde Fedora be your timeless companion. Treat it with care, and it'll journey with you wherever you wander.
Robin Fedora
Step up your winter style game with the Robin Fedora. Its signature cable knit design on the crown effortlessly complements your favorite knitwear, ensuring you're both cozy and chic this season. The inner lining does double duty—shielding you from nippy breezes and harmful UV rays. Elevate your look and stay protected with this must-have accessory. Don't just wear a hat, make a statement.
Heather Fedora
Elevate your fashion quotient effortlessly with the Heather Fedora Fall/Winter hat for women. Its iconic pinched Fedora design paired with a freestyle soft edge brim promises timeless elegance. Crafted from 100% premium wool felt, this hat isn't just a stylish statement but a lasting one. Perfectly sized with an 8.5 cm brim and 10 cm crown height, it offers UPF50+ UV protection. Plus, its internal drawstring ensures a tailored fit. Choose Heather, choose unmatched sophistication.
Gabi Bucket
Experience timeless elegance with a contemporary twist. The Gabi Bucket hat showcases a chic wider brim paired with a distinct flat top and delicate vertical corduroy detailing, promising a blend of style and comfort. Crafted from sumptuously soft 100% polyester, this hat doesn't just elevate your look but keeps up with your dynamic lifestyle. Fold it, roll it, and take it wherever life leads you. Boasting a UPF50+ rating, it ensures you're shielded from harmful rays. Adjust to your ideal fit with the internal drawstring. Embrace effortless sophistication every day. Hand wash to maintain its pristine condition.
Lee Fedora
The Lee Fedora is a masterpiece of design and functionality. The dapper thin suede band, embellished with a tasteful brass stud detail, elegantly encircles the crown, setting you apart in any crowd. Combined with a confidently wide brim that promises to hold its stance come rain or shine, and the distinguished teardrop crown, this hat is your statement of unrivaled style. Crafted for everyone with its unisex design, and from high-quality 100% polyester felt, it's not just a hat but an investment in timeless fashion. Adjust on-the-go with the intuitive basic drawstring. Treat yourself to unparalleled sophistication, and spot clean to keep its allure everlastingly fresh.
The Perks of Our Hats Collection
Extra Layer of Protection
The merits of donning a winter hat extend beyond mere insulation. Beyond keeping you warm, these versatile accessories offer an array of health benefits. Surprisingly, even during the colder months, harmful UV rays continue their assault on your skin. Our hats provide an extra layer of protection (UPF50+), adding an element of sun defence to their impressive repertoire.

Shielding your head from cold drafts can significantly reduce the chances of catching winter-related illnesses, such as flu and colds. As fashionable pieces, these hats effortlessly transform your winter look, turning every outing into a stylish statement.
Adjust for Maximum Comfort
Our hats aren't just about making a fashion statement. We understand that comfort and fit are paramount when it comes to winter wear. That's why our hats come with an adjustable feature, ensuring that each individual finds their perfect fit. An adjustable fit not only promises a snug and comfortable feel but also ensures optimal insulation, keeping the cold at bay. After all, the perfect hat isn't just about looking good; it's about feeling great and staying warm too.
Modern Timeless Styles
In our Fall/Winter collection, we're paying homage to the timeless allure of fedoras and bucket hats while infusing them with a contemporary touch. Drawing inspiration from their rich heritage, we've reimagined these classic styles for the modern wardrobe. We believe that a hat should be more than an accessory—it should be a statement of exclusive style, a blend of unparalleled comfort, and pure functionality. With our collection, we invite you to experience a seamless blend of the old and the new, ensuring that your hat is not just a mere addition, but a transformative piece in your wardrobe.
Materials Matter: Woolfelt to Microfiber
Our Fall/Winter hats are crafted from a variety of premium materials to ensure both comfort and style in colder months. The 100% wool felt options stand out for their exceptional quality, fashioned using responsibly sourced wool from RWS Certified suppliers. This not only guarantees a luxurious and soft texture but also aligns with ethical practices. Both variations, whether in pure wool or lambswool blend, offer durability and a gentle touch, making them suitable for any adventure.
For those seeking a lightweight yet robust alternative, our polyester suede and corduroy hats are designed with both comfort and travel in mind. Their standout feature is their crush-resistant nature, which ensures they maintain their shape, no matter the journey. Additionally, their packable design makes them a traveler's dream. With every wear, experience a blend of style, convenience, and unparalleled craftsmanship

For outdoor enthusiasts, the polyester microfiber and nylon blend emerges as the pinnacle choice, boasting impressive water repellency and rapid drying capabilities. Specifically engineered for the ardent adventurer, this selection shines in rugged terrains. It steadfastly maintains its integrity, being washable, lightweight and packable. Whether you're trekking snowy trails or embarking on rain-soaked hikes, these hats cater.
Conclusion
When selecting the perfect Fall/Winter hat, it's not just about warmth—it's about matching style with functionality. A Fedora exudes timeless elegance, ideal for those upscale winter soirées, while the Bucket hat exudes casual charm, making it a go-to for your weekend escapades. The choice of material is paramount, and our hats showcase a fusion of luxury and performance. Crafted from wool felt, lambswool, and polyester suede, they offer durability, superior insulation, and unmatched comfort.

What sets us apart? Crush resistance, travel-friendliness, and a UPF50+ certification for sun defence. Explore our Fall/Winter Hats Collection from House of Ord: Cape Town and 360FIVE Everyday, and find your perfect seasonal companion. Get set to conquer the cold in style!
People Also Read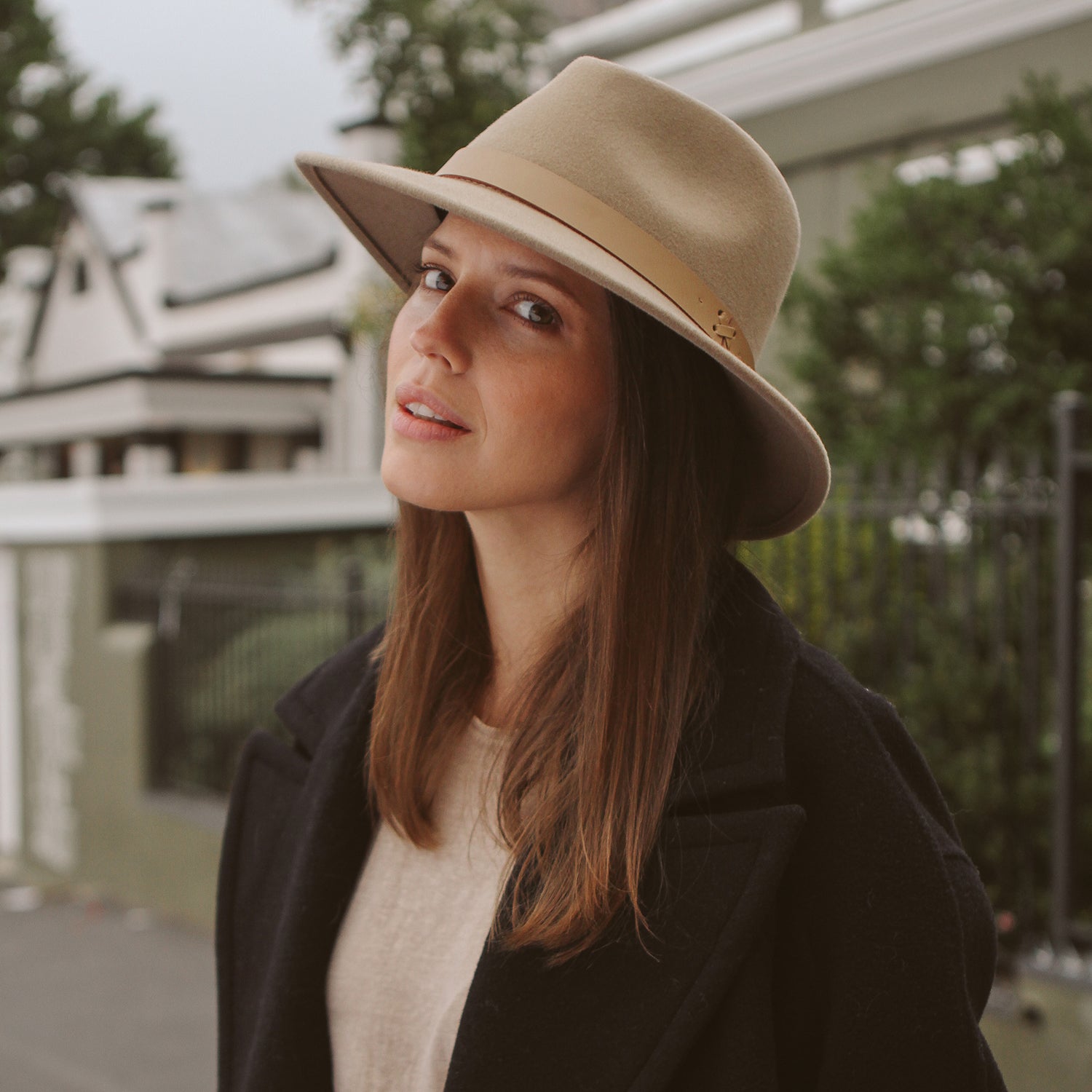 As summer's warmth fades into autumn's chill, the right hat becomes your style savior and warmth warrior. Dive into this guide to help you find the right Fall/Winter hat for this season.
Protect your skin from harmful UV rays! The UV Index (UVI) measures the strength of UV radiation from the sun. It's wise to protect yourself when the index gets above 3. Stay in the shade, wear protective clothing, and apply sunscreen with an SPF of 30 or higher. Our UV protective sun hats offer additional protection for your face and neck. Stay safe and stylish in the sun! 
Struggling with packing hats for travel? Discover our range of crushable, packable, and foldable sun hats designed for style, function, and UV protection. Read our packing tips and watch the short video in this comprehensive article.
Have Any Questions?
We are here to answer all of your queries
Follow us on social media